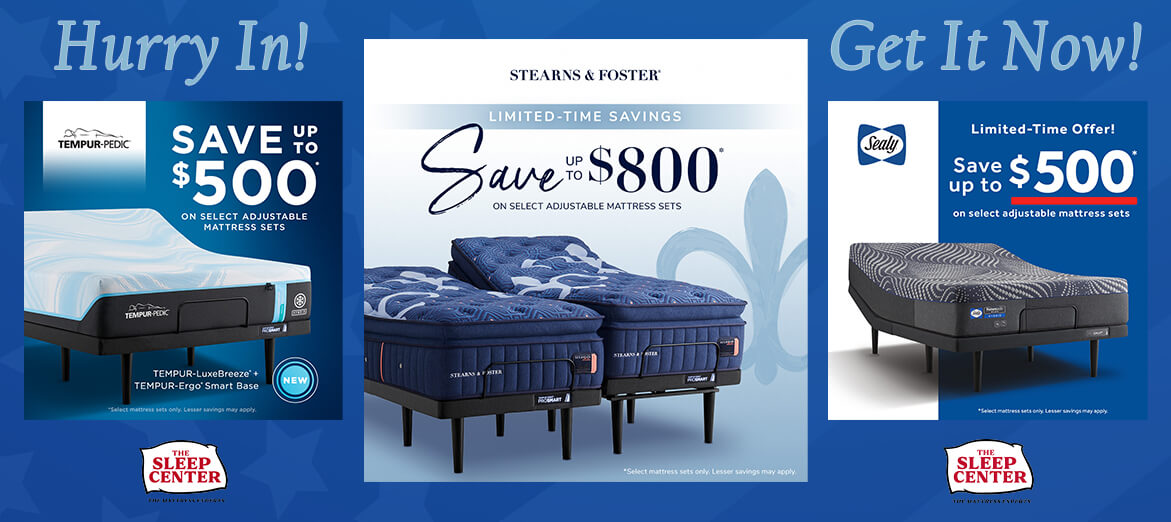 Panama City, Florida
The Sleep Center in Panama City, Florida is locally owned & operated, with franchise buying power to save you money. We have a massive "in-stock" inventory system that is onsite--and the largest in the area that we know of--so we can provide exceptional care of your mattress needs. Shop Tempur-Pedic, Stearns & Foster, Sealy, Serta, and Beautyrest mattresses, along with murphy beds, adjustable bed bases, futons, headboards, bunk beds and numerous bedding accessory items. We are here to care for you!
We are located at 1830 W 23rd Street Panama City , FL 32405, just east of the 23rd Street and Frankford Ave. intersection, across from Sam's Club.
Our store hours are Monday - Saturday 9:00 am - 6:00 pm and Sunday 1:00 pm - 5:00 pm, including most holidays.
Where Do Panama City Folks Shop For Mattress Sets On Sale?
The Sleep Center stocks hundreds of mattress sets in Panama City, FL!
At The Sleep Center in Panama City, Florida! Our mattress showroom displays dozens of mattress sets and mattresses to allow us to properly fit you and your sleep style with the proper mattress and/or adjustable base. We are experts in the various mattress materials like Gel, Foam, Latex, Memory Foam, Innersprings and more. Let's talk. we are here to care for you and your family.
Come in for a free test rest and enjoy hassle-free exploring. We love to educate our customers so they can best understand why there are so many types of mattresses. We will take the time to explain everything to you so you can fully understand the mattress industry and take part in finding the perfect products for your needs. Stop by and explore our great sleep products, pressure-free.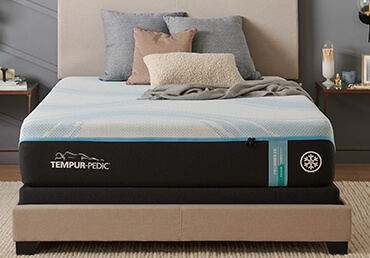 Tempur-Pedic
As a full service Elite Tempur-Pedic retailer, we proudly carry every product offered by this revolutionary company.
Shop Tempur-Pedic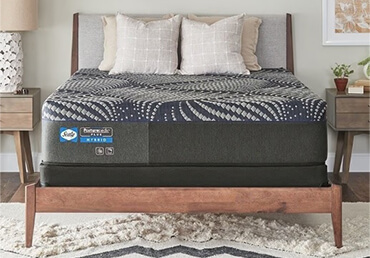 Sealy
The complete product line presented by Sealy can be rest tested & explored in our friendly mattress showroom.
Shop Sealy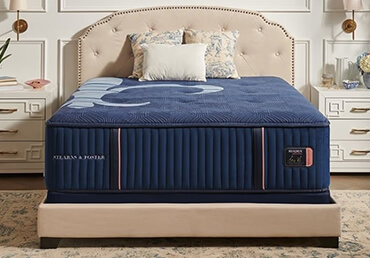 Stearns & Foster
All the luxurious goodness that Stearns & Foster creates is offered by The Sleep Center in Panama City.
Shop Stearns & Foster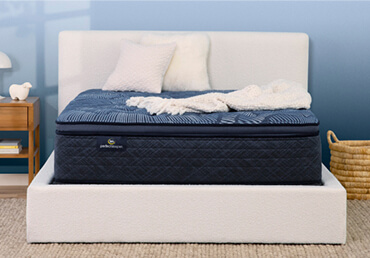 Serta
Serta Arctic collection is here and can be rest tested & explored in our modern mattress showroom.
Shop Serta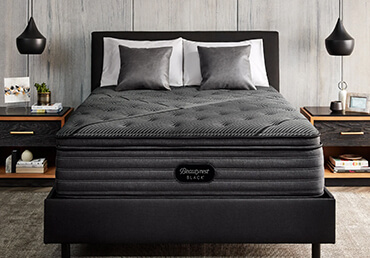 Beautyrest
Our Beautyrest Collection presents advanced sleep systems based off of decades of innovations.
Shop Beautyrest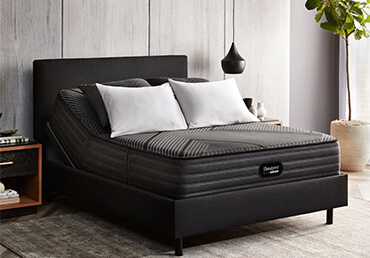 Adjustable Beds
Transform your bed into an amazing support system with push button comfort from your remote control.
Shop Adjustable Beds
Seriously, you have to at least stop by The Sleep Center when shopping for a new mattress to sleep on. Stop and see!
The Sleep Center was opened in Panama City, Florida way back in 1995 by Richard Branham and his family. A well known family for caring and giving back to the community. A local mattress store that is award-winning and constantly optimizing the mattress shopping experience for area consumers. A team of mattress experts and professionals that are factory-trained and under a continual training and improving process to stay on top of the mattress industry. The Sleep Center is all of this and so much more, too. It's a local success story of a little mom & pop mattress store that grew up with Bay County and through the journey of the many challenges behind us all. We're #850strong because of you. We are locals serving locals as your neighbors and we appreciate you!
Offering the best products and best customer support is truly remarkable. Couple those with factory direct savings and super specials and you get the best value in town.
Busted trucks and third party delivery crews are great for some but as the delivery pros, we have dedicated trucks and an exclusive delivery team that are our employees.
Mattress shopping doesn't have to be unpleasant. Come explore our fully-stocked no pressure mattress showroom and let us put a smile on your face for life.
Finance your dreams, put it on free layaway, write a check, or use your credit/debit card - we have options for you to make purchasing & paying with us easy.
Get In Touch

Fax: 850-785-0899
Visit Our Showroom

The Sleep Center
1830 W 23rd Street
Panama City, Florida 32405
Store Hours

Monday - Saturday
9:00 AM - 6:00 PM
Sunday 1:00 PM - 5:00 PM