Community Care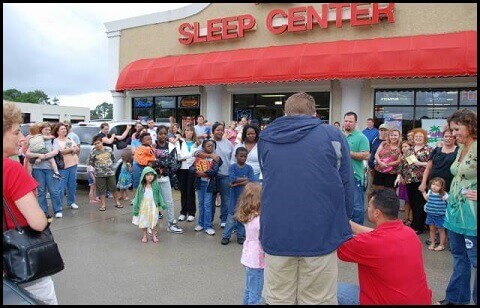 Locals caring for Locals.
Richard Branham not only lives in Panama City, Florida, along with his wife, daughter, and extended family...they are entrenched in the community and they care passionately about Bay County's success as a whole. As the operator of this locally-owned family business since 1995, Richard spends his time in a positive way and believes in paying it forward and giving back to help others succeed in life, too.
Giving is contagious? Absolutely it is, and it is something at the core of the Branham family.
Contact Us For Care
Talk to a Mattress Expert in Panama City 850-785-0910
Some of the locals we have contributed to. There are many more so stop by our store and view the letters and awards..
Toys 4 Kids.
Anchorage Children's Home.
Hidle House.
American Cancer Society.
Food 4 Kidz.
Rescue Mission.
Kid's Wish Network.
St Judes Children's Hospital.
Junior Service League of Panama City.
Bay Medical Foundation.
Beachcare Services, Inc..
Salvage Santa.
Taunton Family Children's Home.
Grills Gone Wild.
Motorfest.
Boys & Girls Club.
Muscular Dystrophy Association.
Children's Home Society (Clair's House).
Gulf Coast Charity Celebration.
Oakland Terrace PTO.
Hiland Park PTO.
Project 25 (Bay County Sheriff's Office Toy Drive).
...and supporting various activities for several area middle & high schools in Bay County, FL.
Along with these worthy causes, The Sleep Center provides help to Tricked Out Car Club, which works hard to bring good things to the community, too, and Richard was there to help with their TOCC Giveback program back in 2009 when the President & Founder of TOCC challenged the members and partners to adopt the "giving is contagious" philosophy.
Just living proof that caring is catching on in Bay County, and paying it forward is becoming more and more a value to live by!
Thank you from all of us at The Sleep Center.
Friendly professional mattress experts in Panama City, FL since 1995
The Sleep Center has a deep connection to the Panama City area as caring locals that provide quality products at the overall best value for your money. And our extensive continuing training programs and close dynamic teamwork is orchestrated by our store owner, Richard Branham. Buying from The Sleep Center is a smart choice when you want to get the most for your dollar while supporting a local business heavily involved in numerous local charities to support community care. The Sleep Center has earned Best of Bay for many, many years in a row through a continual focus on each customer we serve with our Golden Standards.
Have A Mattress Question?
We are located at 1830 W 23rd Street Panama City, FL 32405, just look for the big red canopy across from Sam's Club. Ask about our convenient financing options and our superfast delivery options by our in-house delivery pros.
Finance your dreams, put it on free layaway, write a check, or use your credit/debit card - we have options for you to make purchasing & paying with us easy.
Busted trucks and third party delivery crews are great for some but as the delivery pros, we have dedicated trucks and an exclusive delivery team that are our employees.
Get In Touch

Fax: 850-785-0899
Visit Our Showroom

The Sleep Center
1830 W 23rd Street
Panama City, Florida 32405
Store Hours

Monday - Saturday
9:00 AM - 6:00 PM
Sunday 1:00 PM - 5:00 PM