Mattress Tips by The Sleep Center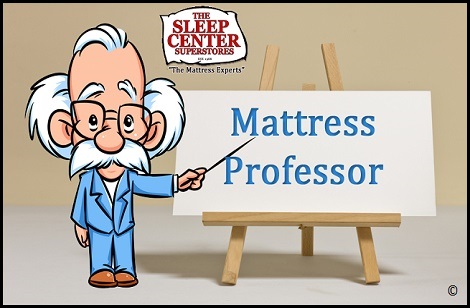 We are here to teach you all about mattresses
Please enjoy these smart mattress tips by The Sleep Center's Mattress Experts. It's all perfectly presented to teach you all about mattresses, which will make buying your next mattress easier and better for you. As the mattress experts, we understand the mattress industry quite well and we want you to, as well. We know it can be overwhelming shopping for your new mattress set so we are sharing these pro tips with you.
We think you will enjoy yourself and find the information easy to follow, so sit back and take a few minutes to review. Stop back often as we will be adding more mattress lessons, and please contact any of our stores for additional help or to answer any questions. You are always welcome to come take a test rest on any of our many dozens of display mattress sets on display. Let's talk about the features, layers of materials, construction techniques, and what it all means for your sleep.
Contact Us For Care
Talk to a Mattress Expert 850-785-0910
Study Course 1: Comfort & Support. No matter what words or products any salesperson pushes on you, these two points are what it all boils down to, so we will begin here with our Mattress Professor Comfort & Support lesson.
Support. It takes a certain amount of support to resist sag from the weight of your body and to hold your back properly in place, which is critical. A soft, balanced resistance to hold your body from falling to the ground, while at the same time counteracting your body's weight from gravitational pull.

Comfort. It requires a varying degree of comfort to relieve pressure points, allowing proper blood circulation while you are supported and to provide you with a truly restful sleep surface.

You will want to preserve these two basic principles while shopping for your next mattress. If you compromise on either one of these important mattress principles, your sleep will suffer and you will be back shopping for a new mattress in no time at all. All of our experienced sleep consultants know to always keep these principles in mind while you "Test Rest" various models on our showroom floors. It is why we carry many different makes, models and types of mattresses. This is one of the reasons we feel there are better ways to shop for a new mattress, than online mattress shopping. Each mattress is different, and your body type and lifestyle greatly affects what the best mattress for you will be, so take your time and don't compromise on such an important purchase!

Factoid - Your mattress should be evaluated for replacement every 7-10 years.
---
Study Course 2: Comfort Descriptions. Let's talk a little more about comfort and how that relates to the comfort descriptions with the mattresses you will be finding in the stores you visit. The three basic Comfort descriptions will be:
Soft. These utilize multiple layers of soft, supple materials to give you that ultra-soft feel that you sink into.

Medium. These typically utilize much less soft material on top of the mattress, while maintaining a firmer support system with bit of cushioning, so that you don't sink into the surface.

Firm. These typically utilize very little soft material and incorporate denser, firmer materials and are the closest to a flat sleeping surface.

Keeping these three basic Comfort descriptions in mind, we will break into more comfort types marketed today. These mostly fit into the three descriptions above, but become a little more specialized.

Plush. These utilize a firm sleeping surface with soft layers to cushion without being ultra-soft.

Euro Top/Pillow Top. These utilize a separate layer of soft material on top of the support system of a mattress. Usually, Euro Top offers less of it, whereas a Pillow Top provides more.

A firm bed should not be considered hard. It will still give slightly but very solid feeling without much give when pressed on. While conventional wisdom has always maintained a firm mattress for a person with a bad back, since it would appear to offer more support, this is not necessarily the case. Body shape, weight, and type, along with sleep habits and other health factors, all play a part in matching you with the ideal mattress. A back sleeper (one that sleeps on their back) may benefit from a firmer mattress. A Test Rest at one of our local mattress stores will help in determining this.

As with a firm mattress, a soft mattress is often misunderstood. In general, soft mattresses utilize multiple layers of materials to build up the soft feel, which can be bad for a stomach or back sleeper since some spines may not get the support it needs. If you are a side sleeper, you could be an ideal candidate for a soft mattress.

When in doubt, start with a medium type mattress and see how it feels. Most manufacturers aim for the middle of comfort scales with these types, so you get support and a soft layer or two to tone down their firm mattress. You may find the best fit with a medium type mattress, which may also last longer than the other comfort types.

But again, without a Test Rest and some assistance in understanding your needs, you could easily end up with the wrong mattress. Rest assured, at The Sleep Center, we will take the time to properly match you with the very best mattress for you and we will offer trial nights in your home as an added safeguard to ensure you are absolutely comfortable and completely happy with your new mattress.

Factoid - Sleep quality improves when you eliminate pressure points on your body.
---
Study Course 3: Mattress Descriptions. Let's talk a little more about support and how that relates to the mattress descriptions you will be finding in the stores.
Innerspring. These utilize some type of a steel alloy coil support system and vary greatly by manufacturer and model. The wire gauge, coil construction and coil count all affect the outcome, but none of these should be the only concern when determining quality. However, they all play a part in the overall mattress system's design and end result of that specific design goal.

Hybrid. These utilize a combination of materials, such as a steel coil support system with the addition of gel, foam, latex, etc. This is not a standardized term. The combination of materials will be different from manufacturer to manufacturer and even from mattress to mattress.

Foam. These utilize foam as their support & comfort system. There are variations in the foam material that must be reviewed for the properties & end goal of the use of them. These factors, such as manufacturing methods and densities, will affect your comfort level and overall support.

Gel. These utilize one of the latest breakthroughs in mattress components. By infusing gel into foam, latex or other materials, it provides the prospect of cooling properties, it may offer as well as, additional buoyant support it adds to the material it is infused with.

Memory Foam. These utilize an visco-elastic foam that contours & cradles your body and is often called Visco-Elastic Memory Foam. Memory Foam uses a different cellular composition than traditional foams and is also temperature sensitive allowing the foam to conform even better once lied on.

Latex. These utilize milk frothed saps from Rubber tress and are typically blended with some form of a synthetic latex to provide a much stronger molecular bond, than natural latex by itself. There are several different processes to cultivate Latex from a tree sap to the finished product. The three most commonly used are Talalay, Dunlop and Continuous.

Tempur. These utilize a revolutionary material first invented by NASA to help relieve the strong G-forces astronauts experienced during takeoffs that transformed the mattress world. Tempur-Pedic is the only brand of mattress with the patented Tempur material. The Sleep Center and The Sleep Gallery mattress stores are authorized retailers of Tempur-Pedic.

Air Beds. These utilize air chambers that can be adjusted to adjust the firmness level. They are typically made from vinyl (much like a pool float) and require a power source to run the air pump required for use. Air beds do have limitations, such as size restraints (most do not come in King), and it is generally advised that infants should not sleep on one for their safety.

Waterbeds. These utilize water-filled bladders or chambers that support your body. Traditional waterbeds typically transfer to much motion, so some prefer a semi-motion or motionless waterbed that incorporates multiple chambers of water. A full motion (referred to as a traditional waterbed) uses one large mattress bladder that uses a large amount of water, which also requires some concern as to where they can be used.

Factoid - The Innerpring mattress was invented in 1871 by Heinrich Westphal.
---
Friendly professional mattress experts in Panama City, FL since 1995
The Sleep Center has a deep connection to the Panama City area as caring locals that provide quality products at the overall best value for your money. And our extensive continuing training programs and close dynamic teamwork is orchestrated by our store owner, Richard Branham. Buying from The Sleep Center is a smart choice when you want to get the most for your dollar while supporting a local business heavily involved in numerous local charities to support community care. The Sleep Center has earned Best of Bay for many, many years in a row through a continual focus on each customer we serve with our Golden Standards.
Have A Mattress Question?
We are located at 1830 W 23rd Street Panama City, FL 32405, just look for the big red canopy across from Sam's Club. Ask about our convenient financing options and our superfast delivery options by our in-house delivery pros.
Finance your dreams, put it on free layaway, write a check, or use your credit/debit card - we have options for you to make purchasing & paying with us easy.
Busted trucks and third party delivery crews are great for some but as the delivery pros, we have dedicated trucks and an exclusive delivery team that are our employees.
Get In Touch

Fax: 850-785-0899
Visit Our Showroom

The Sleep Center
1830 W 23rd Street
Panama City, Florida 32405
Store Hours

Monday - Saturday
9:00 AM - 6:00 PM
Sunday 1:00 PM - 5:00 PM